As Kermit the Frog famously said: "It's not easy being green."  When it comes to property insurance, Kermit is only partially correct.  Although green buildings and commercial construction projects pose unique risks that are likely not covered by traditional commercial property policies, the insurance industry has become increasingly responsive to this issue by creating and offering products specifically tailored for green risks.
Just What is Green Construction, Anyway?
Green construction (also known as a "green building" or a "sustainable building") is an environmentally responsible and resource efficient structure and process.  In other words, it's not just the building itself that's "green" – it's the entire construction and using process.
The objective of green construction is to reduce the overall impact of the built environment on human health and the natural environment.  To do so, there is an emphasis on, among other things:
Energy efficiency

– reducing operating energy use through high-performance windows, passive solar design, and on-site generation of renewable energy;

Materials efficiency

– utilizing recycled materials, rapidly renewable plant resources, and locally extracted and manufactured building materials to minimize energy expended their transport;

Indoor environmental quality ("IEQ")

– reducing volatile organic compounds in the air, maintaining an efficient ventilation system, and controlling moisture accumulation; and

Waste reduction

– providing on-site compost bins to reduce the amount of occupant-generated matter which is hauled to a landfill, and innovative processes such as using "greywater" (water from, e.g., dishwashers and washing machines) or rainwater for subsurface irrigation and flushing toilets.
Why "Go Green"?
There are a variety of incentives for "going green."  The environmental incentives are perhaps the most obvious: conserving natural resources, improving air and water quality, enhancing and protecting ecosystems and biodiversity, and reducing all the bad stuff (e.g., solid waste, greenhouse gas emissions, and the dreaded carbon footprint).  There are also social incentives, like increasing the respect and strength of a brand and positively impacting the health and social well-being of the building's occupants.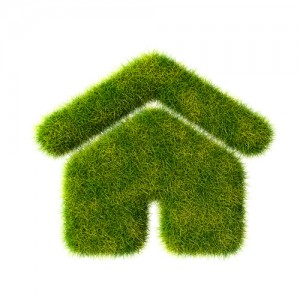 Of course, when we're dealing with commercial construction and property insurance, the most significant incentive for "going green" is probably economic.  Over time, green buildings can reduce operating costs, improve employee productivity and satisfaction (a happy employee is a productive employee!), enhance asset value and profits, generate a better return on the owner's investment (e.g., higher rents, sales prices and occupancy rates), reduce liability risks, and optimize the performance of a building during its life-cycle.  There are also federal, state or local tax incentives for certain types of green construction.
There can be a conflict between the "up-front" cost and the "life-cycle" cost, as green buildings can be more expensive to construct due to, for example, the novelty of the construction process or the use of certain less common materials.  In time, the "up-front" outlay is likely to be outweighed by the building's "life-cycle" cost.  Take-away: green construction will likely generate a greater investment return than traditional construction.Green Certification
Organizations across the world have developed certain standards, codes and rating systems which, in turn, enable government regulators, building professionals and consumers to embrace green construction with confidence.  Although the specifics vary, most programs award credits for optional building features that support green design in certain categories, and the number of credits awarded to a building determine the building's certification level.
Notable green certification programs include:
LEED

– the first green building certification program in the USA, Leadership in Energy and Environmental Design (better known as "LEED") was introduced by the U.S. Green Building Council in 1998 and is generally considered the dominant benchmark of green certification programs.  The LEED point scales and rating systems vary for types of buildings and types of construction, and there are 4 levels of LEED certification: Certified, Silver, Gold or Platinum.

Energy Star

– a joint program of the U.S. Environmental Protection Agency ("EPA") and the Department of Energy.

Green Globes

– an environmental assessment, education and rating system by the Green Building Initiative, a Portland, Oregon-based non-profit.
Also, it's not just buildings that can be green-certified – design professionals, contractors, and materials suppliers can achieve green certification under certain programs, and working with certified professionals can sometimes contribute to a building's certification.
Unique Risks and Exposures for Green Construction 
            Traditional commercial property insurance policies likely don't protect a green building owner's investment, as they probably don't provide coverage for green construction features (e.g., increased property valuation and increased reconstruction time and cost), green construction requirements (e.g., initial certification and necessary recertification), or green elements (e.g., vegetative roofs).
For example, since green property valuations are often higher than that of traditional buildings, the coverage limits of a traditional policy may not be sufficient.  The greater reconstruction cost for a green building – coupled with the potential increased reconstruction time due to the limited availability of specialty products or green construction methods – may result in business interruption.  The business interruption limits or values in a traditional property policy may not reflect a realistic timeframe for renewed operations after green construction.
Also, as green rating systems evolve, the cost to meet the heightened certification requirements increases, so the coverage limits of a traditional policy may not be enough for a damaged building to be recertified.  Traditional property policies often specifically exclude coverage for certain green elements.  Plus, green recertification can be a labor intensive and costly process and sometimes requires the help of a green certification consultant, but traditional proper policies likely wouldn't cover that cost.
Insurance Industry Response to Green Construction Risks and Exposures
As the green building industry advances, so do insurers: many now offer a variety of green building coverage products – both endorsements to larger policies or standalone green policies – which are tailored to respond to the numerous green risks and exposures.  Although these products and coverages vary from insurer to insurer, the below are currently available in the insurance marketplace:
Green upgrade coverage

– available to buildings that are not currently certified as green, for purposes of covering costs related to obtaining green certification by rebuilding after a loss;

Green certification coverage

– available to buildings which are already certified, for purposes of covering costs related to rebuilding to that level of certification after a loss;

Green certification upgrade coverage

– available to buildings which are already certified, for purposes of coverage costs related to upgrading to the next level of green certification (e.g., from LEED Silver to LEED Gold);

Green reputation coverage

– reimbursement for reasonable fees, expenses and costs required to, e.g., respond to or defend a civil lawsuit stemming from the failure to meet or comply with green building standards or hire a reputation crisis consultant to manage adverse press in such a situation;

Business interruption coverage

– contemplates a longer period of restoration than necessary for a standard commercial property;

Coverage for protections "beyond the building

" – encompasses elements outside the building (which are often necessary for green certification status), such as porous pavement systems or special irrigation and "graywater" collection systems;

Coverage for green consultant services

– reimbursement for the fees expended in retaining a "green" accredited design professional to help redesign or reconstruct damaged property so that the property can obtain green certification or recertification;

Coverage for green requirements imposed by law or by contract

– reimbursement of expenses to comply with building codes, green legislation or zoning ordinances, or contractual obligations imposed by nongovernmental parties such as lenders, landlords, sellers or buyers; and

Coverage for specialty property aspects

– coverage for, among other things, vegetative roofs, solar power panels, wind turbines, carpets made of natural fiber, and flooring or insulation made of recycled materials.
Although certain types of coverages are simply an "added bonus" for an insured that wants to "go green," other types of coverages are becoming a necessity.  For example, green upgrade coverage – which is available to buildings that are not currently certified as green, for purposes of covering costs related to obtaining green certification by rebuilding after a loss – is crucial where rebuilding ordinances or applicable legislation require the insured to rebuild to certain green standards.
What Next?
            Almost certainly, green construction methods and green certification programs and rating systems will continue to evolve.  The insurance industry will, of course, continue to respond to any such evolution.  At present, there is very little case law or claims history regarding green construction or green insurance issues, but stay tuned, as with the evolution of green construction and the evolution of the insurance industry's response, claims relating to green buildings and green building coverage – and, accordingly, case law – are surely on the horizon.