Most homeowners' policies – and property insurance policies in general – contain a limited coverage extension for "collapse."  The interpretation of that collapse coverage has been litigated around the country for decades, with different jurisdictions reaching considerably different results.  The latest of these decisions, Valls v. Allstate Insurance Company, No. 17-3495-cv (2d Cir. 2019), comes out of the Second Circuit, deciding the case under Connecticut law.  The case presented a single substantive question: does the "collapse" provision afford coverage for basement walls which had significant cracking but remain standing?  Both the district court (D. Conn.) and the Second Circuit Court of Appeal concluded that it does not.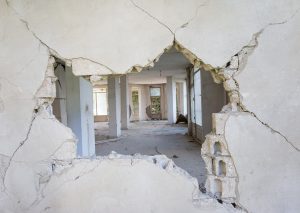 In Valls, the plaintiffs owned a home in Connecticut which was insured by Allstate.  The Allstate policy excluded "collapse," but then contained a collapse coverage extension, which provided:
We will cover:
a) the entire collapse of a covered building structure;
b) the entire collapse of part of a covered building structure; and
c) direct physical loss to covered property caused by (a) or (b) above.