Last July, we posted that an intermediate level appellate court in Iowa had held that a policy excluding loss "caused by rain" did not bar coverage for loss occasioned by the non-excluded peril of "rainwater."  On Friday, the state's highest court threw cold water on such nonsense, holding that there was no distinction between rain and rainwater for coverage purposes.  No justice disagreed, though the court split 4-3 on another issue.  The decision can be found at Amish Connection, Inc. v. State Farm Fire & Cas. Co., 2015 WL 1260085, 2015 Iowa Sup. LEXIS 32 (Iowa, Mar. 20, 2015).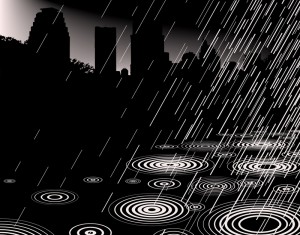 The insured operated the Amish Connection Store in Crossroads Shopping Mall in Waterloo, Iowa.  Rooftop drains discharged into a 4" cast-iron drainpipe that ran above the store's ceiling tiles and then down the back wall of the space and into a storm sewer.  The pipe was leaky and extensively-corroded, and it burst during a rainstorm on June 14, 2010, flooding the store and causing substantial damage to the policyholder's inventory, office supplies, and records.
Amish Connection had a businessowner's policy with State Farm that excluded loss "to the interior of any building or structure, or the property inside any building or structure, caused by rain . . . unless . . . the building or structure first sustains damage by an insured loss to its roof or walls through which the rain . . . enters[.]"  It was undisputed that the rainstorm caused no damage to roofs or walls.  State Farm denied, and the insured brought suit.
The trial court granted the insurer's motion for summary judgment, holding that "as a matter of law the water running through the pipe which caused the loss was rainwater."  On appeal, however, as we previously reported, a unanimous panel of the state's Court of Appeals reversed because it held that rainwater was not an excluded peril.  As the panel explained:
Here, the policy limits coverage for loss "caused by rain."  The policy does not use the term "rainwater." . . . The definitions of "rain" and "rainwater," although similar, encompass two different points in time.  As water is falling, it is considered "rain."  After it has fallen – and, as here, been collected on a rooftop and channeled into pipes for transport to a storm sewer – it is considered "rainwater."
In Friday's opinion, the court squarely rejected that distinction.  In the words of Justice Thomas Waterman's majority opinion:
We hold as a matter of law that water damage is "caused by rain" within the meaning of [the exclusion] when an interior drainpipe fails during a rainstorm and releases rainwater inside the building.
Under common parlance, damage caused by "rainwater" is "caused by rain."  If water is only considered rain while it is falling and becomes rainwater after it strikes a surface then the policy's limitation on coverage for damage "caused by rain" would be eviscerated.  Water does not damage property while merely falling through the air, but only after it strikes a surface.  Under the court of appeals' interpretation, the rain limitation in the policy would be superfluous[.]
Four Justices also rejected Amish Connection's alternative argument.  The contract of insurance barred coverage for loss by rust or corrosion, but that exclusion contained an ensuing loss exception that recited that "if accidental direct physical loss by any of the 'Specified Causes of Loss' . . . results, we will pay for that resulting loss[.]"  The specified causes of loss included "water damage, meaning accidental discharge or leakage of water or steam as a direct result of the breaking or cracking of any part of a system or appliance containing water or steam."  The policyholder contended that the drainpipe that burst was exactly that – "a system or appliance containing water."
The majority found the argument unpersuasive for two reasons.  First it held that "an exception to an exclusion does not create coverage that otherwise is lacking."  Stated differently, ensuing loss exceptions may negate the applicability of the particular exclusion in which they are found under appropriate factual circumstances, but they do not themselves represent affirmative grants of coverage.  Secondly, the State Farm policy contained anti-concurrent cause language.  As a result, the majority held that "damage from rainwater released by a breaking drainpipe during a rainstorm is not an insured loss because the damage is caused by rain within the meaning of the rain limitation, even though the breaking drainpipe is a concurrent cause."
Three of the Justices dissented.  Importantly, they did not quibble with the majority's rejection of the Court of Appeals' rain versus rainwater distinction.  Instead, they concluded that there were genuine issues of material fact with respect to causation.  According to Justice Daryl Hecht's dissent, the real question was "whether the loss was in fact caused by rain or, instead, by some other covered occurrence (or a combination of covered and uncovered occurrences)."  As a result, Justice Hecht wrote that summary disposition was inappropriate and the case should have proceeded to trial.  In the words of his lengthy dissent:
Amish Connection is not covered if its loss was "caused by rain," as stated in the [rain exclusion] section, or if it is excluded in the [rust and corrosion] section.  I acknowledge that the word "or" is disjunctive in this context.  But whether the loss was "caused by rain" – or by some other covered cause – is the fighting issue in this case.  In my view, provisions in the [rust and corrosion] section leave wide open the possibility that causes of loss other than rain are not excluded – even when concurrent causes are involved – and are therefore still in play here.  A jury should be entitled to resolve factual questions like these.  . . . In this case, I believe a reasonable fact finder could find rain was neither the sole nor even the primary cause of Amish Connection's loss.